The 2022 Subaru Love Promise Community Commitment Award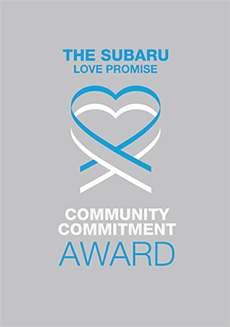 We've been nationally recognized for our dedication to our community and the Subaru Love Promise.
We're honored to receive the 2022 Subaru Love Promise Community Commitment Award. This award nationally recognizes Subaru retailers who are making the world a better place while demonstrating an outstanding commitment to supporting passions and causes in local communities. These efforts are focused in important areas such as the environment, community, health, education, and pets.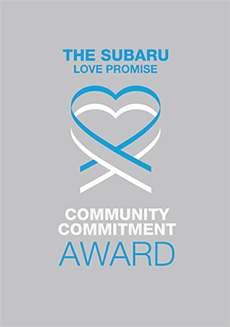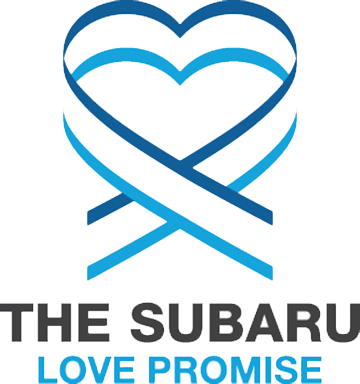 What is the Subaru Love Promise?
Subaru and our retailers believe in making the world a better place and the Subaru Love Promise is our vision of respecting all people. This is our commitment to show love and respect to our customers and to work to make a positive impact in the world.
How is Lou Fusz Subaru - St Peters dedicated locally to the Love Promise?
Our Love Promise can be seen in various partnerships with local charities and non-profits. We're grateful for the opportunity, not only to be a part of our community, but to serve it as well.
American Diabetes Association
Love Promise Stories from Lou Fusz Subaru - St Peters
Subaru and Lou Fusz Subaru - St Peters believe in making a positive impact on the communities in which we live and work. We uphold that belief through our Love Promise Community Commitment. Every month, we select inspiring stories from customers and partners from around our area who strive to support our collective commitment and feature them here
Subaru Loves the Underdogs! - Landon B
We all love pets here at Lou Fusz Subaru! We have a close relationship with 5 Acres Rescue, the only no kill shelter in St. Charles county. Getting with them, we found out what items they needed the most, and brought them as much that could fit in a Crosstrek! More importantly, we got to spend some time with the "Underdogs!" 5 Acres let us meet the dogs that have been there the longest and spoil them with some toys and treats! More than that though, we got to spread the word though this video to anyone looking to adopt that these pups are ready and waiting for their "Furever" home! Thank you 5 Acres for everything you do, and thank you Subaru for not just saying it, but living it...Love, It what makes Subaru a Subaru...
---
Paw-Toberfest!!! - Landon B
5 Acres rescue a local no kill shelter put on a 2 day event for animal lovers! It consisted of a Friday night Glow run/walk and a Saturday Paw Parade! Local vendors came out to support 5 Acres and all their 4 legged friends. We were thrilled when they reached out to us at Lou Fusz Subaru to help in any way we could! We participated in both events and handed out pet supplies and toys! We also are getting with them to bring in some Underdogs to our Make a Dogs day at the store on the 22nd. Thanks Subaru and 5 Acres for this awesome opportunity!
---
Random Acts of Kindness - john m
Lou Fusz Subaru St Peters wanted to do something positive for our community and Let them know that Lou Fusz and Subaru are more than just a car company. We wanted to give back and we also wanted to have an impact on our city and its citizens. We bounced around several ideas before settling in on one that we felt made sense. We decided to outfit a vehicle and drive around town doing random acts of kindness. We called it Lou Fusz Happy Hour. We decided we could go to local fast food restaurants, and pay for people's food, without them having prior knowledge. We picked 2 restaurants, and decided to pay for customer's orders as they came through the drive thru. It was a hit! People were honking their horns and thanking us for the free lunch. We also had a chance to stop by the Cottleville Fire Department and Cottleville Police Department, and dropped off Crave Cases to them. We thanked them for their public service and handed over the food. The guys were all really great. It went so well that we have decided this will be an ongoing event, so keep a lookout for a Lifted Crosstrek, which could be coming to a restaurant near you soon!
---
Juan Gozalo - Subaru Salesperson of the Year - Sean K
My wife and I have purchased two Subaru's' in the past year and it is all because of Juan Gozalo, a sales person for Lou Fusz Subaru in St Peter's, MO. Juan exemplifies what it means to love Subaru and it shows. He is knowledgeable and speaks from the heart. He ensured we were 100% satisfied when we purchased our 2019 Crosstrek. Because of his enthusiasm for the brand and making me a believer through a year of Subaru ownership, I decided it was time for me to make the leap and purchase my own Subaru, a 2020 Outback Onyx XT. Juan was the first person I called and he made it his own personal goal to help me find the right Subaru. Juan's dedication to his customers and steadfast love for Subaru is what made us a Subaru family for life.
---
Science book donation - Laura P
Wow! Thank you so much to our friends at Lou Fusz Subaru! We recently were the lucky recipients of a very generous donation of high-quality Science books. In addition to the quality of the books, we are also so excited about the multiple copies of each book. There is no substitute for engaging literature that gets our students excited about learning, and we are thrilled that multiple students will be able to simultaneously read and explore the science topics covered in these books. These texts support our focus on providing student experiences that get them excited about STEM and enhance our goal to promote learning at high levels. We cannot thank you enough for the generous and thoughtful donation! Sincerely, Mrs. Parn Principal Duello Elementary School
---
Subaru & LLS Deliver Blankets to Cardinal Glennon - Debbie K
Ed Federman, Jessica Lipe and Landon Bigogno from Lou Fusz Subaru – St. Peters and Jane Smith of The Leukemia & Lymphoma Society (LLS) gathered at Cardinal Glennon Children's Hospital on Friday, June 22nd to deliver blankets and craft kits for the young cancer patients at the hospital. Subaru and LLS are partnering during the month of June to help keep patients warm as they continue their fight against cancer, and to help spread awareness of LLS and Subaru of America's goal to provide hope and care, one gesture at a time. Ryan Jennings of Cardinal Glennon was on hand to accept the 80 blankets and 10 craft kits on behalf of the young patients. Cardinal Glennon will distribute the blankets and craft kits to their patients over the next few weeks. Thank you Subaru for sharing the love and providing warm blankets to the children of Cardinal Glennon Children's Hospital! These small gestures of kindness have a huge impact!
---
SUBARU LOVES TO CARE - Ruth D
Lou Fusz Subaru – St.Peters' General Sales Manager, Dave Arbogast, delivered 80 blankets and 10 Craft Kits to SSM Health Cardinal Glennon Children's Foundation on Tuesday, July 18th. Ruth DePew, with The Leukemia & Lymphoma Society - Gateway Chapter, helped unload the generous donation from Subaru and present them to Aleeza Granote, Hematology/Oncology Social Worker & Case Manager. Aleeza told us that blankets are one of the most popular requests of patients getting treatment in the hospital, they will be greatly appreciated! We visited with Vicky Tomber, Executive Assistant, and learned more about the mission of the Foundation. As we were saying our goodbyes, someone came in and asked if we could drop off a couple cases of blankets to the hospital, they needed them for patients! So, back in the car with two cases of soft, warm blankets - delivered within moments of the request to SSM Health Cardinal Glennon Hospital. Who would have thought that delivering blankets on a triple digit, sweltering summer day in the city of Saint Louis would be a good idea? We do and We did! LLS – Gateway is proud to partner with Lou Fusz Subaru – St. Peters to help provide care, support, and warmth to patients and their families. Thank you Lou Fusz Subaru! #subarulovestocare #gatewaylls #fusz
---
Humane Society of Missouri Receives the Love - Shana C
The Humane Society of Missouri was the recipient of more than $18,000, thanks to the Lou Fusz Subaru and Subaru of America Share the Love Program. During the Share the Love campaign, each time the Humane Society of Missouri was designated as the charity of choice by purchasers of a new or used Subaru, Subaru of America and Lou Fusz made a contribution to the charity. Subaru of America and Lou Fusz Subaru's commitment to the Humane Society of Missouri means second chances for thousands of animals who are abused, abandoned or neglected. You guys are PAWsome!! Thank you!
---
Subaru Supports Zero Waste at Earth Day - Cassandra H
Subaru has a great reputation for making cars that support healthy and sustainable lifestyles, so when they approached us with an interest in sponsoring the Earth Day Festival, we knew it would be a great fit! Partnering with Subaru and area dealers has shown us how they have earned their reputation. Subaru will be supporting the zero-waste effort at the Earth Day Festival, where we implement numerous strategies, including working with vendors, volunteers and attendees to make sure all possible event waste is diverted from the landfill through reducing, reusing, recycling, and composting. With Subaru's support, St. Louis Earth Day is the most sustainably-produced outdoor festival in the region. The purpose of the Earth Day Festival is to advance sustainability in the region through celebration, education and action. Join us on Sunday April 26, 2015 to learn more about how you can "Share the Love" for the planet, people, and prosperity. www.stlouisearthday.org Thank you, Lou Fusz-St. Peters!
---
Humane Society of Missouri Partnership - Keith C
The Lou Fusz organization has engaged the Subaru Love Promise wholeheartedly by supporting initiatives and organizations in our community. In Lou Fusz's two year association with the Humane Society of Missouri, we have assisted in raising $20,000 to help in their mission of education for the general public and finding homes for neglected and abandoned animals. Also in support of this important organization, we at Lou Fusz, provide several other forms of support including two pet adoption events and advertising for the Humane Society to inform the public of their important work. We've also provided a dog park at our Creve Cour location for the use of not only our customers but to the general public. This allows people in the area, who primarily live in condos and apartments to have a safe and secure location for pet exercise. The Humane Society of Missouri is an important partner because they rescue and adopt small animals, large animals such as horses, offer veterinary services to all and seek to stop animal abuse and neglect of all kinds. We're proud to support those efforts!
---